スタンド
2002年のジャパン・スタンドは、創立60周年を迎えたRIAJ((社)日本レコード協会)がMIDEMに出展参加することになったため、RIAJと共に日本の音楽を海外にPRしました。スタンドに設置した大型モニターでのプロモーションビデオ上映は、オレンジとバイオレットのビビッドな配色のスタンドと合わせて、訪れる人たちの注目の的となりました。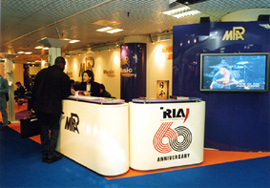 参加楽曲
MPAは毎年ジャパン・スタンドでMPA会員社から募った楽曲を、スタンドのプラズマビジョンでの上映及びCD試聴機等でPRしています。2002年はMIDEM用に設置した期間限定のサイトの中で、プロモーションビデオをストリーミングでご覧頂きました。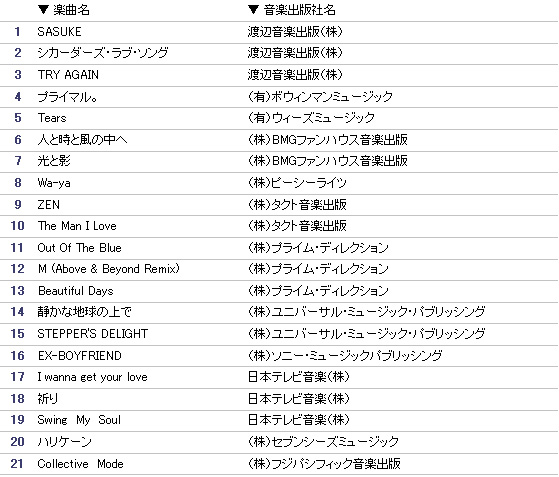 カンファレンス
MIDEM2002 Panel Discussion
Presented by
Music Publishers Association of Japan,
Recording Industry Association of Japan
& Reed Midem Organisation
20 Jan.2002,14:30-16:00
(at Auditorium K / Palais des Festivals / Cannes / France)

Opening
Misa Watanabe:

Chairwoman, Music Publishers Association of Japan :
Good afternoon, ladies and gentlemen. I'd like to thank you very much for coming to this panel.

Last year, MIDEM and we MPA Japan jointly began to present a kind of business seminar with a theme of "Up-to-date On the Japanese Music Copyright Business."

This year, as our second round, we will have a panel discussion under the title – "How to Succeed In Japan."

I hope this event will contribute for mutual understanding and success.

I'd like to thank RIAJ, the Recording Industry Association of Japan, which is celebrating its sixtieth anniversary, has extended its collaboration to us on this occasion. And also, I thank and introduce you our special guests from Japan.

Mr. Makoto Kawase from JCO, Japanese Governmental Agency for Cultural Affairs.
Mr. Yasumasa Noda from JEITA, Advisor to President of Japan Electronics & Information Technology Industries Association.

Now, let's get started on the panel discussion.

Here's our moderator, Mr. Alexander Abramoff.

Thank you very much.
Panel Discussion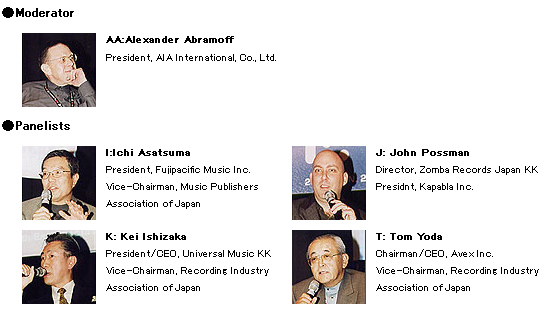 Introduction
AA:

Thank you very much, Mrs. Watanabe for your kind introduction.

Good afternoon, ladies and gentlemen, and welcome to this panel. My name is Alexander Abramoff. To tell you a little bit about myself, I was born, raised and educated in Japan and I have been with the Japanese music industry for the last 31 years. I now run an entertainment consultancy in Tokyo called AIA International.
Today, I have the pleasure of moderating this panel, the panel titled "How To Succeed In Japan". Wow…"Japan" – if you are in the music business, the word, "Japan", should sound "sexy" to you.

The country has the second largest music market in the world that generates the annual copyright income of over 927 million US dollars and puts out prerecorded carriers in excess of 6.5 billion US dollars in value per year.

The market has one of the most affluent and highly educated people in the world. People in Japan are studious and knowledgeable about music. At the same time, they are great music lovers and certainly know how to appreciate and enjoy good music.

Also, Japanese people are known for their curiosity and adventurousness. They have their eyes wide open on new musical styles and trends. Presented in a right and timely manner, they will not hesitate to absorb anything that is new and of quality.

And yet, the share of international repertoire in the Japanese music market has been stagnant at the level of around 20% over the past years. This could be an indication that, regardless of its size, the market may not necessarily be an easy one to break for foreign companies.

Today, we have some of the most prominent executives of the Japanese music industry on our panel and we will try to discuss how we think foreign companies should approach the Japanese music market.

I don't want to pretend that we will have definite answers for you, but at least I hope we will be able to come up with some valuable hints for all of you.

Before we start the panel, we would like to show you a video that will give you some ideas about the Japanese music market. The video will also provide you with some statistical information on the market. But the statistics I understand are included in the booklet that you were given at the entrance to this hall.

May we start the video, please?

AA:

I hope you liked the video. There certainly was a lot of information. Now, please let me introduce our distinguished panelists. On my immediate left, we have Tom Yoda, Chairman/CEO of Avex. As an introductory note, Tom will briefly talk about what in general record companies and music publishers, or the industry as the whole, in Japan expect from their foreign counterparts.

Then, we have Kei Ishizaka, Vice-Chairman of RIAJ and President/CEO of Universal Music K.K. Kei will briefly talk about some marketing strategies that might be unique for Japan. And please let me add that Tom is also carrying the title of Vice Chairman of the Recording Industry Association of Japan, RIAJ.

Then, we have Ichi Asatsuma who is President of Fujipacific Music. Ichi also has the title of Vice Chairman of the Music Publishers Association of Japan. Ichi will talk about some of the roles that music publishers play in Japan.

Then, we have John Possman who is Director of Zomba Records Japan K.K. John is also President of Kapabla, Inc., his own consulting company. John has spent many years in the industry in Japan and John will tell us about some of the successes he has had in the country.

Tom, may we start with you? I know this topic is just too broad and you really don't have enough time to elaborate. However, I think the essence of the topic is, if you were to break an international act in Japan, what do you expect your foreign counterpart, a record company or a music publisher, to do for you and also what sort of a mind-setting do you expect your foreign counterparts to have in approaching the Japanese music market?

T:

Ok. I'm going to start the conversation with the video you saw a few minutes ago. Japan is the second largest market which I'm sure is right. Then 20% of business is from International repertoire, that's right. But most of the business from International repertoire is taken by 5 majors. If there is any portion of the business left for you, especially independent dance label, independent record label and so on, then the market is unexpectedly small or a niche market.

Therefore, for any business interest you have in mind, you must open the door first. Then after opening the door, there is always a problem for you to expect too much from the Japanese market. In most cases our business partners from overseas become impatient because Japan is a large market. I saw that, let's say, the Backstreet Boys came to Tokyo and 50,000 spectators were in Tokyo Dome. Lots of music customers there. Or if recently, Hip Hop, underground artists visit Japan, then probably Yellow gets fully packed – with 500 people. But the problem is the business proportion you can expect from Japan is not large, that is number 1.

Number 2. Japan has been greatly influenced by American or European music over the years. Then after 30-40 years passed, Japanese Pops, "J-Pop", is now taking the majority of business in Japan with lots of influence from international repertoire. Therefore no matter what you may think of Japanese J-Pop, their business domain is very strong and taken by many J-Pop artists.

Therefore if you are really trying to stay in business in Japan you must know that our problem is always time lag. For example, currently Trance music is getting stronger in Japan. But this was popular in Europe 2 or 3 years ago. But it took us 2 or 3 years to take up the business. But the time it took us to take off then the original market has changed their taste and direction. Even though we are trying to keep a strong Trance business in Japan, there seems to be no supplier helping business.

Therefore if you are trying to keep a business with us in Japan, then you must be patient. You must always try to adapt to work together with the Japanese music industry. This is the same for music publishers I guess. Even though you may feel difficulties but we are trying to make some kind of new culture here in Japan with you together. This is a very important point how we have been successful with many business friends — a few people are here today in this room. We have been working together to create new trendy music, adapted between the Japanese market and your international music suppliers.

Did I answer correctly or was that too broad?

AA:

Something tailor-made for the Japanese market?

T:

Yes. Because, for example, we have been in business in dance music for ten years which is quite a long time for us. For 10 years, 12 years, Eurobeat has lasted but our supplier in Italy always tuning up, "what is the new trend in Japan?" Sometimes they are ready to bend their market direction, only towards the Japanese market. Then we'll have to make up some kind of new style of dance movement in Japan, thanks to the international supplier.
Marketing Techniques to get into the Japanese Market
AA:

Kei, do you have anything to add? Any comments to make to what Tom has just mentioned?

K:

I'm always very positive about this business. My role is to describe the knack and skill of marketing techniques for Western people to get into the Japanese market. Can I come close to the focal point?

AA:

Sure.

K:

Before I come very close to the standpoint of marketing techniques and skill, or how to enter the Japanese market in order to get a success with current Western music, I'd like to express there are very strong points and characteristics of Japan and its people as a culture.

Japan has been standing for more than 2000 years with its own culture but the culture has been divided into two main streams. One is our own very old culture of Japanese people for ourselves. And the other one has been a culture which has been fused all the time with overseas things. And music is not an exception.

Since the invention and discovery of new technology of Emile Berliner in the late nineteenth century, around almost the same time Japan has evolved their music business career by ourselves using the techniques and new technology devised by the German, Emile Berliner and the American, Thomas Edison.

And the first global hit was Enrico Caruso which was carried out at the very first stage of the twentieth century, unbelievably at the same time in the Meiji era in Japan we enjoyed the reception of the great music of Enrico Caruso with a sales hit of 10,000.
Around that time everything about the music business was very primary. Since then, from American music, Bix Beiderbecke as a jazz origin, Memphis Jazz Band as the Blues origin, and then Bing Crosby came, Carter Family came, Jimmy Rogers came and then Hank Williams came. All these world topics in music came almost simultaneously to Japan as the greatest enjoyment of the new era.

So, what I have expressed to you will easily make you understand as a Japanese country to be very unique, but very much in the same world common sense. And I'd like to put emphasis on picking up the fundamentals as far as Japanese music goes.

There are three fundamentals I'd like to put emphasis on to express to you. One is culture as I explained to you. The second one is the size and quality of the market. 20% of the whole market share of international music seems to be rather small and timid, but the absolute volume of the market share of international music presently expressed there is $1.4 billion a year. It is equivalent of some great countries annual whole recorded music sales. Still now it is amazing. And the third one, there is a very good legitimate system as far as the record sales are concerned. This is resale price maintenance system. The nations of many countries around the globe, Japan is rare to see this kind of unique system of sales like resale price maintenance system is still going on and is still preserved.

It means the stability of the price. If I release a record in Japan with a price of 2,500 yen, it is truly and accurately preserved and kept as far as the record mercantile product is going on to the destiny.

So these three fundamentals are very healthy and still very hopeful for the Japanese market when you think of trying to enter the Japanese market as a business. Thank you.

AA:

I guess that, Kei, Japan has a lot more to offer than simply record sales. Also, I think it is important for foreign counterparts to realize that there is a lot more to the Japanese market other than just record sales. For example, tours, merchandizing or TV commercials.

Like tours – Japan is known for its loyal fans who will continue to come back to concerts of an artist they like for years and years. There are international artists who have been visiting Japan on a regular basis for more than 20 years.

Also merchandising – Japanese people do spend money at concerts. I do remember Bon Jovi, for example, did 1 million dollars a night just on merchandising when played at Tokyo Dome, a 50,000-seater.

Also TV Commercials – We haven't touched on the subject yet, but once established, there are chances for international artists doing TV commercials in Japan where money for the artists is very good.

K:

For a few years, the Japanese record industry has faced stagnation in the business. It is actually true. And in the year 2001, also decreased about 5-6% in comparison with 2000. But as a whole business in music, I'm sure that our music demand never gets smaller or diminished. We do have lots of possibilities to diversify our business from records into merchandizing, or tours, or also Internet Ring-a-tone business – "Chaku-melo," or downloading. Therefore, we are not only talking about the decreasing business of CD sales, but expanding our business domain from the record business into the home entertainment contents provider. We will have more chances which I'm sure that you people were thinking from 3 to 5 years ago that the record business is not all. You can take some new derivative business which I think we have to go.

AA:

Kei, your company has the biggest share in the international market in Japan.

K:

Fortunately.

AA:

Fortunately, for now. Can you share with us some of the marketing strategies that you feel might be unique for Japan?

K:

Yes, there are two. One is tie-in with TV medium. The other one is how to choose the writer's composition on the album to be marketed for Japanese taste. These are two. The latter is very important.

For example, the special album of Bon Jovi sold around 1 million copies. It is rare to be seen as far as the international market and music are concerned in Japan. Bon Jovi himself has been very cooperative about choosing the right selection of composition to be marketed in Japanese business. Before it came, we had to have good negotiations and devices, making friends with the artist himself and the management office. So, on that rare opportunity, both the artist himself and management officers were unbelievably cooperative over Japanese strategies.

AA:

So you have to have close relationships with artists themselves and management? Talking about tie-ins with TV for example, in order to do them, you have to have some sort of basis, right? … in the Japanese market? But how do you take an artist to that level? What is the most important promotional medium?

K:

For example, last year we redeveloped the very old catalogue of Abba, in the early part of last year, choosing a song called "Chiquitita". It was very fortunately chosen as a main theme song for a soap opera drama which was broadcast all over Japan. The album which includes this number sold more than 700,000 with a price of 2,500 yen, retail. This has been a typical sample about how to develop and promote and market a very strong composition of international to Japanese through our strongest medium.

AA:

If I have a new artist how do I go about it? Is the press the most important thing or the retail, or television?

K:

With a new artist to be developed it is a very different story. We should have a very solid plan. How to place this artist to be developed and how to make numbers year by year, with a turnover three year plan. And the first success would come around 30,000 sales for a very new international artist to reach.
What roles does a music publisher play in Japan?
AA:

So you go step by step. Ichi, your company is known as a music publisher that actively gets involved in promotion. What roles does a music publisher play in Japan?

I:

Normally a music publisher has to have three functions. One is promotion, the other one is creative and administration is third one. In Japan, however, record company and/or management company have been generally asking us more about promotional power. I can say many people in Japanese music industries think that size of promotional power is, at the same time, ranking of the music publisher. Therefore, we have to be strong in the promotion. The other important role besides promotion for music publisher in Japan is the fact that we can see every record company, in other word, we can tell where you should go to. As Tom mentioned, when you want to go into Japanese market, you have to open the door first but you'll be lost without a good guide, and music publisher can be a very good tour guide for you, because music publisher knows which company is the best for your material. Every music publisher in Japan have their own promotional power. So you should better to select what kind of promotional power you need.

AA:

Do you work with record companies to hook up TV drama themes and TV commercials?

I:

That is one of the things we have to do. So far, we have been very successful.

AA:

Tom Yoda…

T:

He is very aggressive in this. One thing I wanted to add in case we are trying to have promotion with artists. The problem is, in most cases, we must give up because of the time schedule of the artist and the cost of the artist's trip to Japan. Because of the geographic location, it is too far from the United States or Europe. That's one of our problems to make our artists properly in place for the debut. So, this is one of the very important points.

AA:

Do you sometimes tie in a trip to Japan with that of Australia, for example?

T:

For example, when we had the Japanese records (of international acts released), we wanted to have the Backstreet Boys or Britney Spears in Japan in a good timing. But it never happened like that. If they did come to Japan one year before, I think their albums would have sold twice as better. That's one of the problems.

AA:

John, I think it's quite recent that Zomba launched its own operation in Japan. You have been extremely successful. Well Tom didn't get his chance but you certainly did get the chance to have the Backstreet Boys in Japan, and Britney Spears was there. I think their successes didn't come for granted. They worked very hard on the Japanese market. They did spend their time. Is there anything you can share with us?

J:

Yes, I believe that Zomba Japan launched on October 1st, 2000 so it has a very short history so far. But in the case of the Backstreet Boys, I think the company benefited greatly from the pro-active and aggressive relationship with Avex over a number of years in building the Backstreet Boys to a million selling act beginning with the "Millennium" album.

So, with international artists, I've done both — selling artists into a market and I also have been on the receiving end. It is always hard to balance the artists' demands for touring in other markets, and their home market needs. For the Backstreet Boys, I think we were really lucky to be able to promote them through television tie-ups starting with the "Millennium" album that Avex arranged — and then again with the "Black and Blue" Album, we also had a good TV tie-up with a major TV commercial.

It took several years to develop the band to the point where they could release the "Greatest Hits". The "Greatest Hits" came out in November, there was no television tie-up, but the album did 1.2 million units over about a two-and-a-half month period. In that case, lucky enough, the band came and toured at the right time.

Right after the "Greatest Hits" was released in Japan the band did several dome shows in Japan. The band did three Tokyo Dome Shows. One in Nagoya, and One in Osaka, and they all sold out right away, which I think at the present market in Japan is difficult, even for a domestic act to do. It seems like there was a lot of things which were lucky for us during this last album but that was actually built over a three-year period. So I think a number of factors contributed to that success.

AA:

So it is very important that artists and management are really prepared to spend some time on Japan, yes? They should really allocate some time to work on the market.

J:

Certainly. I think that for international artists, obviously coming to Japan is very important. Coming to Japan at the right time for the Japanese marketing plan is very important. But that doesn't always work out.

The second most important thing is to have good access to the artists outside Japan. So making sure that, when there is any kind of promotional activities or any time available on the schedule, you pro-actively get that time for the Japanese market. You get as much exposure as possible before the artist comes to Japan. And then hopefully you can bring the artist to Japan and tour in Japan at the right time in the release schedule.

AA:

So you find promo visits important?

J:

I think that promo visits are really important if they happen at the right time. I'm sure Tom and Kei would agree. It is not getting the artist at any time I think. It is getting the artist when it makes sense. Sometimes I think the repertoire owners or the licensors think that if I'm going to giver you the artist you should take it. Sometimes if your timing has passed, it doesn't make sense to take it. You should probably take the money it would cost for a promotional tour and put that money somewhere else.

I:

I think, to get a local cover is very efficient way to make an original record a hit. Although you are saying Japan is very different or Japan is unique, you always would try to apply the same rules as you are using in your own territories. For instance, if we found a very good record for our market from, let's say United States, we of course will try to make this record hit, but it is not easy to get an air play of this original record. However, if we could have a local cover of this song, we can get airplay of covers by Japanese artists more easily and that will stimulate the sales of original record as well. But the management or the original publisher often says, "No, no, no, you can't do that. You have to wait for 6 months after the release of the original record". They are thinking that local cover will kill the original record, but not in Japan. We are going to miss the chance if we waited 6 months. If we could release the local cover at the almost same time as the release of original record, it will be a very good chance to make both records hit.

AA:

So there is some kind of synergy?

I:

Right. So you would really think that Japan is different or very unique, just gives us the freedom to do everything we think that is good for the record turn to hit.

AA:

Kei, do you have anything to add? I think you have a lot of priorities, right?

K:

What Mr. Asatsuma has been explaining is very correct.

AA:

You work on covers from time to time?

K:

Sometimes, because Mr. Asatsuma has a payroll as a publishing person. But I am different. So if I'd like to do this kind of thing on behalf of more solid hits to come, I'm going to have consultation with, for example, London and Japanese publishing company how to go further with this good idea.

AA:

So there are cases when you have to convince? Tom?

T:

Let me tell you something. Ichi said exactly right. At the same time we are talking about a very much independent artist and record labels here today. If the artist is well known, then we can talk about a cover. But if the artist is not well known yet or underdeveloped, then normally we ask to have our big artist like Ayumi Hamasaki, the artist of the year 2001, then we are very much moderate to ask European Trance producers to have her song remixed for the Japanese market.

Therefore, in order for us to ask who is going to be the most effective producer to remix Ayumi Hamasaki, then those producers must be sometimes very humble. Don't be too big nosed, saying "Hey Avex, this is Holland. This market is not your market." Or, "How can we do it? Let's work together. Could you send someone to work together in my studio?" That's why our people are always traveling to the UK, Holland and many other countries to work together with European local producers or artists.

Something I just wanted to add. Not only the cover version or anything bi-lateral coordination, but, still at the early stage of the business, then we can make some kind of niche or ammunition to open the door which your people should have some chance to have Japanese artists coming to you in your market. To remix their songs for your own taste or talent. Is that ok?

AA:

That can open up some doors to different artists.

J:

We talked of the TV tie-ups and cover versions. The other thing specifically with the Backstreet Boys, which was really effective this last time, was a tie-up around the tour with AM/PM. With this convenience store tie-up the band's images and music were all tied in to a few thousand Am/PM stores around Japan. I think a lot of people in Japan had heard the Backstreet Boys' songs, but didn't know who they were, and had never bought a CD. They walked into the AM/PM and they see the image and have the music playing in store and they discover the artist. It crosses over from the 20% of the market that buys the international market which is educated about that music, to the other 80% of the market which hasn't shown a lot of interest in international. But actually, if they hear the music and they have the opportunity to buy the music, this kind of retail tie-up I think is also a very interesting thing.

AA:

So, tie-ups are important?

K:

I'd like to point out one thing. For a very long time, from Europe, there have been a great amount of great stars which were very far from hit song areas. Like Paul Mauriat, Franck Pourcel, Raymond Lefevre, Richard Clayderman and Nini Rosso and furthermore. One other thing is that always Japanese record companies until very recently were very together with European companies in order to make a very order-made type of music. Like some mediumly framed pianist choosing Chopin numbers in popular style, or some artists playing the Bossa Nova. It is a great beautiful mismatch.

This sort of music has been overwhelmingly welcomed by what we call adult. There is very vacant in the Japanese market. And if it is activated, (there is) a vast market for European musicians including Bossa Nova. So I'd like to point out, the Japanese market for international music… not only for international music, but also for very trendy music, is very flexible. Whenever something new, or whenever something remodeled is coming close to the Japanese market, we are open. Could you please remember, I really want this type which would be aimed at those aged between 30′s to more than 50′s.

AA:

Ladies and gentlemen, you better take notes.

K:

Japanese are comprised of many sections, as far as the demographics from 30′s till 65, there are 65 million people, and from 40′s up until 65, it is comprised of as big as 46 million people. If you aim at the 46 million people and 1% reacts, it means 460,000 copies could be possibly sold.

AA:

Certainly that's a big number.
Ichi. If an international artist sings in Japanese, will that help?

I:

No, I doubt it. The radio station which has playlist for International music prefer to play the record sung in original language and the radio station which plays Japanese artist's record mainly wants to play cover version by Japanese artist instead. It will be treated like a bat, not an animal nor bird. The answer is, it may help a little, but not as much as you expect.
Success stories in Japan
AA:

I think that people in Japan — they like everything that is genuine, that's real.

These gentlemen on this panel has a fantastic track record of successes with international artists and repertoire in Japan. (To the panel) Can each one of you, please, share with us one of your success stories? John can we start with you?

J:

OK, I think last year the Backstreet Boys and Britney were very good for Zomba but an artist, a band called Tool, a great band. The last album "Lateralists" came out last May. And this is a band whose first record in the United States did 2.5-3 million units. It was a very critically acclaimed band and in Japan I think on the first record they had a sales base of about 3000 albums.

AA:

I think an interesting point that you could mention is how you actually involve the licensor or repertoire in having the success.

J:

Right, the band was on a different label at that point. It was picked up by the Zomba group on the Volcano label. When we launched it in Japan this next time, from 3000 units to about 44,000 on this album. The numbers are much smaller than 1.2 million for Backstreet Boys but just as important for a new company, and I think for the artist, it is over a ten-fold increase in sales. You pro-actively approach the (licensor), in this case Zomba in the United States, talk to the management, and we established a "shot" price. The initial shipment of CDs, were priced at about 15% below our normal price point.

AA:

And you had a reduced royalty rate for that? (laughter)

J:

Actually, it is case-by-case but sometimes on these projects the local company will take the hit. If you are going to do it on a bigger scale, you would ask for the cooperation of the licensor. But in any case, you need the cooperation of the licensor or the home office. Pricing the product at a lower price point in the beginning, I think that is something that wasn't done traditionally in Japan. Pricing probably wasn't used as much as it is in Europe or the United States as a part of marketing.

So, I think that pricing is a good thing to start with. Also the band came to Japan for the Fuji Rock Festival in July. The album came out in May. So luckily in this case too, the band arranged their schedule to make sure that they went to Fuji Rock. And we strongly communicated with the licensor to make sure that that was a priority for them, and they came through and did a fantastic concert.

It is a very strong band with a lot of visuals, so it was very important for them to come to Japan and play in front of a Japanese audience but also for the critics. We found that the next day after the band played in the Fuji Rock Festival. The single is over 6 minutes long. And the next week, it was actually played on J-Wave which is a radio station not known for playing a lot of rock music, and especially not 6 minute long international singles. So even a little bit of exposure I think is very effective.

The last thing is communicating well with the artist on their web site, because the band's information on their artist's web site was faster than anything you can get from probably the licensor, or anything internally with the management. The band actually does their own site. So getting that site, you allow as many people in the country as possible to make sure that the fans can go on the site and find out what the new single is going to be. What the band is thinking, what they're doing, designing music, and other areas of their life.

AA:

So the internet is becoming important as a promotional tool?

J:

I think it is especially important for bands. It is also important for more mainstream artists, like the Backstreet Boys, but for bands that are selling 20, 30 or 40,000 units, it maybe even more important because the information is not coming out in the media in Japan as quickly, or as often as people might like. By going to the internet the fans have daily contact and communication with the artist. It is a very important tool.

AA:

Ichi, one of your success stories?

I:

I think I can speak of the Spice Girls. When we signed the Spice Girls, Simon Fuller, the manager, planned to have them in Japan first. So he sent the girls to Japan for two weeks, just before the UK release of their debut single. We put them on T.V. and reaction from the audience was great. This news was reported back to UK immediately and became a very effective promotional tool to boost the sales of their first single in UK. Then this Spice Girl's big success in UK were reported in Japan and that made their sales even bigger in Japan. It was a kind of chain reaction. Simon Fuller told me later that this first reaction from Japan was worth the sale of as much as 500,000 copies in UK. In this case everything worked very well.

Sometimes, as Tom said, management or record company would say; "It's enough, no more promotion will be needed" and even if we asked them to send the artist to Japan, they don't allow us to have artist's schedule. But Simon had sent the Spice Girls to Japan even after they became very big around the world. So we could make them much bigger than anyone thought in Japan.

AA:

Wasn't that the case when you continued to work on the market right? Kei, any success stories?

K:

Sometimes I like to present a very good hit from Europe, which is totally irrelevant to Vogue magazine or British charts. And we were successful with Jane Birkin a while ago. As you know in Japan, ladies, not only wealthy ladies but usual ladies are very fond of sticking and perusing brands: Hermes, Gucci, Channel and others, enjoying the best popularity everywhere in Japan. The ladies are rich enough to buy these things. Other than that I don't know.

Jane Birkin's name to some degree has been prevailing through Birkin's bag. But Birkin's bag is priced at $4000-$5000 in Japan. It is very expensive, high priced. But we have found a very good old sleeping composition amongst many albums of Jane Birkin, which was produced some two decades ago. My team member picked up one song, and he recommended that unknown song to a TV producer of a soap opera drama on channel 6. It's a national broadcasting company called TBS.

And after listening to this the TV producer personally grew to like this number, and he put it in the coming soap drama. Because of the very powerful popularity of the TV drama very fortunately it came to be a hit. And the album of Jane Birkin sold then immediately sold more than 400,000. The last album everyone forgot but this latest album sold 400,000.

But unfortunately the next recording didn't come so we are not very successful to make it a continuous business with Jane Birkin. But Jane Birkin herself came to Tokyo immediately to enjoy her promotion work by herself. This is a typical non-English composition success story in the Japanese market.

And the Japanese market is I think is always fond of having, some people say original international hits going on.

AA:

And you said you sold the catalogue of course?
Tom?

T:

One of our success stories is that our company started 14 years ago. Then this is the 14th MIDEM participation. This means the MIDEM is very important. Is that ok? I had to give some present. (laughter)

We started with nothing and we have come so far. One of the points that we are proud of is, we once take up the one particular genre of the business, and we try not to give up too soon or easily, for continuity is very important.

For example Eurobeat. I don't think you people know much about that. But in the heyday of the High Energy in the 80′s, then Japan also shifted into the High Energy business. That's so-called "Eurobeat." Everybody was saying "Eurobeat, Eurobeat," then we started. But right after we started, the boom went away. Then our question was "shall we keep doing it or not?" Then, we decided. "Let's keep doing it because everybody dropped off, so why don't we keep it?" After 10 or 12 years, we were able to have some new trendy dance culture, so-called "Eurobeat Para Para" in the year 2000-2001.

In the same token, we had Techno House. The first few years, then we had a lot of offers from UK, Belgium, France and many places. After two years, they stopped offering the new tracks because they already forgot about the Japanese market. But some of our friends kept sending us samples, then we were able to keep doing the Techno House. Since that time we never stopped it.

The same thing with Trance this time. Therefore we are independent, therefore we make the decisions ourselves. But so far, our stubborn continuity made our success so far.

The other thing I think we can be proud of is we thought that the internet would definitely come into the new century, which I thought in 1995. We started our multimedia division put in my Chairman's office so that I have to incubate this new trend.

Then as of this moment, I think that our internet business is one of the most aggressive web sites right now holding 300 million page views per year. And we have lots of mobile phone business, as I told you earlier, something like Ring-a-tone, "Chaku-melo". Do any of you know what "Chaku-melo" means? You don't know that? Ring-a-tone. I think you should do that in your country.

So that is one of our situations in Japan that we can't stay with the CD business only, but we have to go into any business available utilizing our master rights. That is one of our histories so far.
What's coming up in Japan?
AA:

I think a lot of people in this room would like to find out what's coming up in Japan. Do you see any up-and-coming musical trends from a viewpoint of a music publisher? Ichi?

I:

From the standpoint of view as a music publisher, I can say, we are always looking for a good melody with a catchy hook. As Kei mentioned before, I think there is always a market for the kind of middle-of the-road type of music in Japan. Raymond Lefevre or Franck Pourcel can have very long life in Japanese market. It may be a very good idea to create a Franck Pourcel 2002. In conclusion, the melody is very important element for the Japanese market no matter what kind of outward looking that music has, for instance it would be high energy or heavy metal. So if you had a music with very commercial catchy melody, you should better to knock the door of Japanese music publisher or record company.

AA:

Kei, your company will continue to work on the adult market, right? Anything you would like to add?

K:

Yes. In general, Japanese pop music is very much aimed at the concentration for the specific age zone, teen kids. And this will not satisfy record companies as far as business goes. This doesn't satisfy the consumers, I believe.

So the rest area is always vacant. This kind of area will be fulfilled by more mature music, like European pop or international pop.

I'd like you to come very strongly to do a very healthy and powerful music business in Japan. And then a balance of making music and making a market of consumers would be very well proportioned. So I think I'm optimistic about the market going on. And the 30% of international repertoire share would be very adequate for me in comparison to the 60-70% of the domestic share. 70 domestic to the 30 international would be very good for this kind of vast market in Japan.

AA:

Tom, your company is also diversifying musically, yes?

T:

Yes, I think Kei's point is very encouraging. We have three areas to go. Of course we are always dance label, that kind of image. This year we are very much geared up to pushing the Trance music using our large venue Velfarre Club. The other one we are pushing is to use animation or visual business with the synergy of music content.

We are catering from 5-6 year old kids up to high school. Then 20 year old, F1 or M1 – main market is taken care of anyway. The last one left is to take care of the 30,40,50 adult market by healing music, or some traditional Japanese musical instrument like Japanese drum or Tsugaru-shamisen, a three stringed instrument which normally you never pay attention to using this instrument in today's modernized music business. But I think we have some possibility to go this way. Therefore, in short, infant age, then 20′s, and then 30′s and on with healing and more culture image music. And Trance is very important for young people.

AA:

John, what do you foresee upcoming in Japan?

J:

Well for Zomba, hopefully Britney Spears in 2002.

AA:

We're talking musically. (laughter) You're going to have a movie, you know that?

J:

That's right, yes. There's a movie and a tour and a lot of other things. So, hopefully she'll go to the next level.

I was reading Newsweek on the way here on the plane, and there was an article about a Japanese retailer who is in kind of trouble financially. One of the comments in the article said, talking about the inside of the stores, that "everything from the mannequins to the costume jewelry is a generation out of date. The music is by the Carpenters piped in from the 1970′s."

It goes on to talk about how bad the store is but I thought that it was kind of funny because information and misinformation are very important. You read that article and you may think that the carpenters' music goes along with the rest of the description about the store being out of date, and they haven't been able to keep up with the times.

In reality, in Japan, the Carpenters have sold very well recently. I think Universal did an excellent campaign and they became a quite big selling act again through compilations and tie-ups, although I don't know the details. When I look at it, to me the Carpenters make sense in Japan. Now that doesn't strike me as being something out of date.

In 2002, you could have the Carpenters again, or something like that coming in the next 6 months or 12 months that could sell a million units in Japan, I'm sure. Over time, with the right promotion, and the right tie-ups, and the right cooperation between the licensor and the licensees I think, anything and everything can sell if the right circumstances are there. But obviously it depends on the quality of the music, quality of the artist, cooperation, luck and timing.

But I thought that was a very interesting point as it demonstrates the importance of knowing a market. The Carpenters, Tool, Enya which has been a huge success here in Japan, all work in Japan. The market is very broad and very rich, and there is a huge opportunity there.

AA:

Thank you. I think we should be opening up for questions. But let me kick off the questions. If I were an independent trying to place my catalog with a company in Japan, what are pros and cons for me to go to a local independent? And what are the pros and cons for me to go to a multi-national in Japan? I think I should be asking this one to Ichi.

I:

I think it depend on what kind of material you have. Because some major is very aggressive to have other repertoire besides their own repertoire and some major are very negative to do so, since they've been told by their headquarter that "You can't do that, you have to concentrate your effort to promote our own material" So I can't say exactly which way you should go at this moment, but if you can show me what kind of material you have, I can tell you the way as we, music publisher, know market and industries.

AA:

It depends on repertoire? Thank you. And I think we should be opening up for questions. Questions, please?
Questions and Answers
Q1:

You were talking about the vast market from the age group of 30 and above. Between the age group of 30 to 40, what is the correlation to the same market in the US and their taste? Or is there any correlation or are they completely different?

K:

I think that this is very different. I think American adult market people, comprised of 30 years and up, may have been music lovers mainly in the past. But Japanese adults are not in this kind of definition. So Japanese adults could not have been music lovers in the past times, in their infant or young days. I think in Japan the adult market were detailed in the very much mixture of context.

Q1:

So are you primarily trying to reach that audience with back catalogue music as well? ….. OK.

Q2:

To expand the international repertoire to up to 30% I guess, there should be more promotional way for international repertoire. And in this area of digital music and the Internet, probably the internet streaming or downloading music on internet or wireless are important factors for promoting international repertoire, I think. But there are a lot of issues for global license issues so I was wondering what kind of approach that Universal or EMI are doing for internet promotion with streaming media or downloading media?

AA:

Tom?

T:

Japanese Internet market or web site download business is still beginning. Also it is very difficult to have the clearance from overseas licensors to use the international repertoire for downloading. Therefore RIAJ right now are talking about how we handle this trial listening first, in order for everybody to have more promotion using the Internet. Yet, 30% of the licensors permit using their track for streaming promotion use, that's it. Therefore, as far as international repertoire is concerned, Internet trial listening or download business is still beginning.

I:

In terms of promotion in Japan, the printing media, I mean magazines and newspapers, has a quite strong influence on the consumer. And Japanese magazine want to have their own article and their own pictures. They don't want, sometime refuse, to use the picture somebody has already used. Therefore, you have to send tons of pictures to your Japanese licensee, so that they can distribute different pictures to each magazine or newspaper.

Q3:

I've got another question. I'm from a small German company that's producing Latin music. And I'm asking and in contact with Japanese companies always if there isn't a cultural problem sometimes to succeed in Japan. And that what is missing for me sometimes and what you have been talking about because I sometimes think that there is another way of thinking and working in Europe than in Japan. I ask someone in Japan to send me something and he doesn't answer, and I think he doesn't want to sell? And I want to sell to someone in Japan and he buys another product. I propose a product but he buys another one. How can I learn to understand how to communicate with Japanese companies? (laughter)

K:

It is my idea for you; usually Latin music is very difficult to enter the Japanese market right now. But in the blood of the Japanese people, I presume Japanese people basically like the very good and enthusiastic melody and the passionate melody of Latin with a very strong rhythm. But anyway now the Latin music front is almost dead.

But with a merger with something else on trend — like fashion, like something being related to a very strong trend, Latin music could be reactivated very easily. Sometimes, as you know, Enrique Iglesias is getting so popular right now in the United States. The basic music is based on Latin, of course. And Japanese people like Enrique with a strong influence on Latin music originally, than American orientated music on Enrique himself.

So Latin music alone at the present stage is having difficulty to enter. But you should absorb good Latin music with something very unique and new in order to get a merger, in order to express the good side of Latin music, we are ready to welcome.

T:

How do you communicate with the Japanese?

Q3:

I normally communicate by mail. But I think the point is not that I'm selling Latin music. I would have the same problem if I would sell Rock music or Trance music or something like that. It is the way of communicating. It is the contact between two cultures. For me Japanese is really another culture. I'm living in Europe, I'm thinking European, I'm thinking German. I have been living in Latin America, I am patient, I can wait a lot of time but there is always a misunderstanding.

T:

I hope that the one you are talking about is not our company. (laughter) But let me tell you this. We keep receiving hundreds of samples and offers. Sometimes the answer may not be speedy enough but I must tell you, you have to be patient, keep sending them. Sorry, we do receive a lot. Normally we never put the sample into the trash box at all. We definitely listening to it, but it takes some time. I hope you don't underestimate.

K:

I've got a different idea. As I said to you it is the same for a person to have communication with somebody in Japan through Latin music or any kind of music. You should have some other kind of idea to contact non-musical people who can have the possibility trendy orientated mercantile things in Japan. Like the fashion industry or the movie industry, or theatrical industries, and others. There are so many kinds of entertainment orientated people not only in music but also the rest of entertainment. So, I think you should try to contact somebody as a shock absorber.

J:

I also think it is not just communication but also knowledge of the market. If you look at Oricon, which is oricon.co.jp or Soundscan Japan, checking those on the internet is a good way to know what trends are happening in Japan and the international market as well. I think there's an English site for both of those companies.

AA:

I think we have time for one more question.

Q4:

(Translation from Japanese)
Hello, my name is Katarina. I have faith in the Japanese people, I think Japanese are great. I have a simple question. My country Slovakia is very small so we have many kinds of business problems. My question is that in such a small country can a small project be accomplished with Japan?

AA:

Direct promotion. (laughter)

K:

I'd just like to say I was a great earnest fan of Chassravska in the year of '64, that's all.

AA:

Thank you very much. I think we're running out of time. So ladies and gentlemen, pack your bags and fly out to Japan. Please give a big round of applause to our panelists today. Thank you.
イベント
2002年は、スタンド来訪者がMIDEM期間中のみならず、帰国後も気軽にアクセスできるよう、MPAがMIDEM用に期間限定で特設したサイトのURLを印字したシールを製作し、来訪者にプレゼントしました。サイト内ではプロモーションビデオをストリーミング配信しました。また、カンファレンス告知用のフライヤーを制作し、シールと合わせて来訪者へ配布しました。